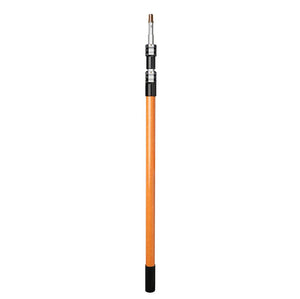 Extension pole. Extends from 3'11" to 12' (1.2m to 3.6m)
The MagPole Mini is a lightweight – short when closed – easy to transport extension pole opens to 12 ft./3.6m.
It is a  4 section, 2 push button (+ 1 "secret" section/tube with 1 tubing button) telescopic extension pole with a fiberglass handle. The end tip has the Acme thread to fit into the MagMovers
It closes to 3'11" (1.2m) and opens to 12 '(3.6m). Using the reach of the body, the fully
extended MagPole Mini can meet the metal on ceilings with a height of 16' (4.8m).
Weight with shipping tube: 4.40 lb / 2.00 kg. Free freight on this item.
Note: The "Secret" section (tube) can be pulled out of the second section (tube). If this happens, insert the "secret" section/tube into the second section/tube while depressing he upper Push Button (black handle). Lower the "secret" section/tube and depress the next two tubing buttons to return the "Secret" section/tube to the MagPole Mini's closed position.